IF I COULD ONLY USE 1 PRODUCT...
Assalaamu'alaikum!

"IF YOU COULD ONLY USE 1 PRODUCT IN YOUR LIFE, WHAT WOULD IT BE?" Hmmm, I think that was a worst scenario ever in my life because I'm a collector of many fancy stuffs from skincare, bodycare, wardrobe, until stationery, huhuhu. I spend my money to buy something cute and fancy stuffs.
But now, #TimSARproject challenges us to share products that we love most and if we could only use I product in our life from skincare, body care, shirt, accessories, bag, shoes, until stationary and also we tell why we love them most. In my blog post, I will share my favorite products that i really love so freakin' much and I tell it why. So, let's check this out!
SKINCARE
You know that my skincare routine is very complicated from cleansing, toning, applying serum, moisturizer, applying spot treatment, until applying sunscreen before going outside from my house. Actually, my mother didn't like my skincare routine because it's very complicated and the side effect of layering skincare routine it will get "breakout" (it likes a small acne) and I realized it. If I could doing 1 step skincare routine only, I would choose
CLEANSING
because it prevents acne and keeping my skin clean and healthy too.
pict. source from www.thebodyshop.co.id
My concern of choosing cleanser is
it will not drying my skin
because I feel uncomfortable if using cleanser that drying my skin. It's my biggest turn off if any cleanser that's drying my skin.
If I could only use 1 skincare product is
The Body Shop Drops of Light Pure Clarifying Foam Wash
. I really like this cleanser because it's foamy but doesn't drying my skin. After 1 month using this I realized my skin getting brighter, hahaha, seriously! And I have repurchased this twice. The price of this product is IDR 259.000 for 125ml and you only need a pea sized so this is will lasts longer.
BODY CARE
I only using body wash in body care. I like to trying many body wash from many brand from drugstore to "high end" brand. My all time favorite body wash is from
The Body Shop Fuji Green Tea Shower Gel
because I love the smell is so fresh and it cleanse my body without drying my skin. IDR 99000 for 250ml, I know it's pricey but I like it so much.
pict. source www.thebodyshop.co.id
SHIRT/BLOUSE
pict. source from www.cottonink.co.id
I really like shirt because so simple and you can wear it to any occasion from daily look, formal look with formal outerwear, dating with your love, or going hangout with your friends. I choose white shirt because it's very neutral to combine with my another outfits and I can create my style with white shirt. I can wear my white shirt with 'boyfriend' jeans, chinos, cullotes, or tailored pants. And for the shoes I can match it with sneakers or flats or even oxfords.
BAG
For the bags, I like this bag from
Adorable Projects
like i wear in this photo because it's backpack and it has multi pockets, and also I like the colors because I like navy colors. IDR 220000.
SHOES
For the shoes, I prefer this Lidaho Black Quilted Sneakers from Adorable Projects too (now discontinue) because it's very neutral for my outfit, occasions, and my style too. I can wear it everyday for daily look, formal look, and going hangout with my friends.
OR......
pict. source www.google.co.id
I like to wear Franciosa Maroon Oxford because it's look vintage and very neutral to my outfits.
ACCESSORIES
Absolutely, I like to wear watch, because it's stylish and simple. I like to wear analog watch with black or dark brown leather strap because it's very simple and neutral for my style and outfits.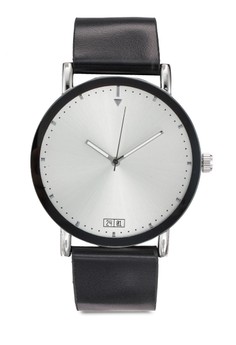 pict. source www.google.co.id
STATIONARY
pict. source www.google.co.id
Hmmm, I think this is my favorite part because I have my new favorite stationary. This is
Frixion by PILOT
, a pen that can be removed by friction. It has an eraser on the top of the pen. It's really pricey for a pen about IDR 30000 but I think it's worth it because you don't need correction pen anymore, just removed with the eraser on the top. Now, there's many "duplicate" of this pen with only from IDR 3000 with a cute design.
That's all my favorite things and stuffs all of the time. Don't forget to stalking Sarah's favorite products (click here) and Rhosa's favorite products too (click here). See you on the next #TimSARproject
Wassalaamu'alaikum!